THANK YOU TO OUR DONORS AND FRIENDS

STRAWBERRY FESTIVAL . GOOD WEATHER, GOOD TIMES

REMEMBERING JANET SCHERER

PICTURES FOR TRICOUNTY ACTIVE ADULT CENTER

ULTRA VIOLET PROTECTION FOR CHAPEL COMPLETED

LPHS 1st PRESIDENT MURIEL LICHTENWALNER PASSE

S AWAY
REDNER'S MARKET TAPES
WILSON D. PUHL TAX RECORDS

THANK YOU TO OUR DONORS AND FRIENDS
A BIG THANK YOU to the folks who donated items and shared things with us in the recent months.
Lew Babel donated some newspaper clippings saved by his father about Bobby Shantz. These were put together in a booklet and are in the Sports display case at the chapel.
Doris Callow of the Limerick Historical Society shared some photos of previous Strawberry Festivals (2001-2002) with us. They have been scanned and are available for viewing at the chapel.
Arlene Keller who is the former Arlene Gaugler and is moving donated some Pottsgrovian yearbooks 1947-1958 and 1974-1979. The older ones are from the West Pottsgrove High School on Grosstown road in West Pottsgrove  (Stowe). They will be available by the next meeting.
Again  THANK YOU to all of our donors and friends.
_______________________________________________________________________
STRAWBERRY FESTVAL, GOOD WEATHER, GOOD TIMES
June 10th was a perfect day for the LPHS Strawberry Festival. We would like to thank all of our donors for their support, and all of our volunteers who did a fabulous job as usual. Skip & Chickie again provided us with a day of entertainment, and trivia. Congratulations to everyone who won in the trivia game and to all of our basket winners. Thanks to all of the Sanatoga Fire company volunteers who helped with putting up tents and taking them down. Good job guys and girls. And a big THANK YOU to everyone who came out and had some lunch, strawberries and made purchases to help support us. Without you the festival could not continue. See  you all next year.
_______________________________________________________________________
               REMEMBERING JANET M. SCHERER            1945-2017
Janet M. Scherer, wife of John D. Scherer, passed away on Monday February 13, 2017 at Phoenixville Hospital. Born in Pottstown, Pa, she was a daughter of the late Earl R. Norton and the late Ruth Runkel) Norton.  She was a member of New Hanover Lutheran  Church, Gilbertsville.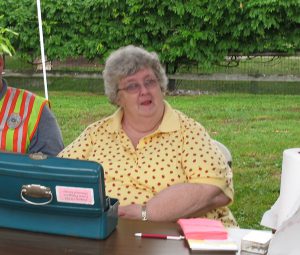 Janet was also a member of the Sanatoga Fire Company Ladies Auxiliary, where she was president for thirty four years, and the Lower Pottsgrove Historical Society where she was secretary for twenty years. She was also an officer of Sanatoga Grange #25 where she was a member for 25 years, and a member of Montgomery County Pomona Grange.
Surviving with her husband John is a son, Brad A. Scherer and his wife Marj, Pottstown, and a daughter, Beth A. Scherer, Pottstown.
There is so much more to say about Janet's time here with us. For the Society she was much more than a secretary. She was a tireless worker in all the things she did for us. From buying supplies for the Strawberry Festival and working at the festival selling food tickets and those great strawberries we always have, to helping clean up and tallying the profits at the end of the day. Janet was not a computer person but there was never a note or copy of the minutes that could not be read by anyone. Her handwriting was among the best we have ever seen, and a computer was not necessary for her.
Janet was well liked and had many friends due to her cheerful and pleasant way of dealing with people. She will be greatly missed by all of us.
Memorial donations for Janet may be made to Sanatoga Fire Company, 2222 E. High Street, Pottstown, PA, 19464 or Lower Pottsgrove Historical Society, 2341 E. High Street, Pottstown, PA 19464.                                                                                                                                         Two rose bushes have been planted at the Chapel in memory of Janet.  Thank You to Lew Babel and Dave Updegrove for their help in planting them.
_______________________________________________________________________
PICTURES FOR THE TRICOUNTY ACTIVE ADULT CENTER
We have supplied Brian Parkes, Execurive Director  of the TriCounty Active Adult Center  with photos of the Lower Pottsgrove area for hanging in the remodeled center located on Moser Road in Pottstown. When it is completed take a look at them when you visit.
_______________________________________________________________________
ULTRA-VIOLET  PROTECTION  FOR  CHAPEL
We have been searching for some time to provide the chapel with protection from the ultra-violet rays of the sun.  Custom windows seemed to be a very expensive, prohibitive  option.  After considerable research we have come up with an alternative.  We have purchased from a supplier of greenhouse material a length of 6 ml. vinyl material that is 98% UV protection rated.  This will provide us with the protection we have been seeking.  Charles Nippert has taken the frames that we had and rehabbed them, replacing some wood. He then sanded, stained and varnished them so they are a very good match with the present window frames.  We will then cut the material and staple it to the frames.  They will then be installed on the inside of the windows.  We should not see any significant darkening in the chapel and we will have the fade resistance we are seeking.  The installation of the frames has been completed  by Charles Nippert and Lew Babel. We thank Charles and Lew for  their efforts on this project.
_______________________________________________________________________
LPHS 1ST PRESIDENT MURIEL LICHTENWALNER PASSES AWAY
It is with sadness that we announce the passing away of Muriel E. Lichtenwalner on March 19, 2016 at her home at Keystone Villa in Douglassville, PA. She had been the very first President of the Lower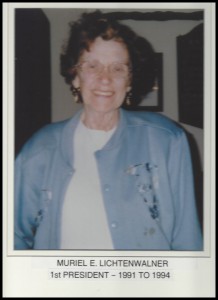 Pottsgrove Historical Society. Muriel was 92 years old and was the widow of Dr. Charles Lichtenwalner with whom she had enjoyed 60 years of marriage. Muriel was a gifted writer and enjoyed a career in journalism. She began her career as a reporter for the Pottstown Mercury. She later became a historian for both Lower Pottsgrove and Limerick townships. This included her publishing two local history books: " Lower Pottsgrove – Crossroads of History" and "Limerick Township – A Journey through Time". Muriel was well remembered for her activities with the 1976 Bi-Centennial celebrations which concluded with wagon trains from across the United States making a final stop in Lower Pottsgrove on July 2, 1976. It was as a result of these activities that she was chosen as the first President of the Lower Pottsgrove Historical Society. She will be missed by all.
As history was her greatest passion, the family has suggested that any donations in Muriel's honor be made to the Lower Pottsgrove Historical Society at 2341 E. High St., Pottstown, PA 19464, or any charity of your choice. The LPHS sincerely appreciates this generous gesture by the family. You can follow this link to read her obituary in the March 22 Pottstown Mercury:
http://www.legacy.com/obituaries/pottsmerc/obituary.aspx?n=muriel-e-lichtenwalner&pid=178128826
Our sympathy goes out to her family.
_______________________________________________________________________
REDNER'S MARKET TAPES
Do you shop at Redner's Market?  Do you have a Redner's gas card?  If you do, could you save your register tapes for us?  We will get 1% for every penny spent.  It does add up for us. If you don't have a card you can ask for one at the market. You will get .10 a gallon off of every $100.00 spent and we will get some help as well.  If you are able to help us out, you may give your register tapes (the complete tape) to any LPHS board member. Thank you very much for your support.
___________________________________________________________________________

   COLLECTION OF WILSON D. PUHL TAX RECORDS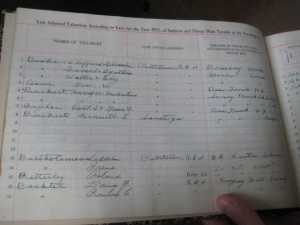 Read about the Wilson D. Puhl collection of tax records in the 'Hidden Collections Initiative for Pennsylvania Small Archival Repositories'  section of HSP (Historical Society of Pennsylvania).  These records are available for viewing at the Chapel.
---
---