REMEMBERING DAVID UPDEGROVE

 OPEN HOUSE WITH LIMERICK HISTORICAL SOCIETY   

1934 COMMENCEMENT PROGRAM for LEWIS BABEL SR,

1976 BICENTENNIAL WAGON TRAIN

THANK YOU TO OUR DONORS AND FRIENDS

REMEMBERING JANET SCHERER

ULTRA VIOLET PROTECTION FOR CHAPEL COMPLETED

WILSON  D. PUHL TAX RECORDS

REMEMBERING DAVID UPDEGROVE


1930 – 2018
David J. Updegrove, husband of Barbara S. (Saylor) Updegrove, passed away on July 26 at his residence in Sanatoga, PA. Born in Pottstown, PA, David was the son of the late David B. and Margaret (Hinkle) Updegrove. He was a member of St. James Lutheran Church in Pottstown.
David was employed at Stanley G. Flagg as a metal pattern maker for 37 years retiring in 1992.  He also served in the U. S. Army during the Korean War.
David was a volunteer fireman with the Sanatoga Fire Company for over 65 years.  He served as an officer in  all positions over the years.  He was also a member of Ringing Hill, New Hanover, and West End Fire Companies.
It is his long-term membership in the Lower Pottsgrove Historical Society that we can remember best. From cooking hot dogs or working at a table at the Strawberry Festival, to grounds-keeping and maintenance of the Chapel, Dave was always at his cheerful, helpful best. He was definitely at the top of everyone's list for being just an all around nice guy and he will be very much missed by all of us at the Society, as well as by his many  fire company friends.
Memorial donations for Dave may be made to the Sanatoga Fire Company, 2222 E. High St., Pottstown, PA 19464: St. James Lutheran Church, 1121 E. High St., Pottstown, PA 19464: or Lower Pottsgrove Historical Society, 2341 E. High St., Pottstown, PA 19464.
___________________________________________________________________
OPEN HOUSE WITH LIMERICK
 HISTORICAL
SOCIETY
On June 11 the members of Limerick Historical Society were guests at an Open house with a brief program outlining the beginning  of the Society  and it's progress to date. This program was presented by Tom Troutman and Glenn Isett. Afterward the members enjoyed looking at various pictures, books, and artifacts collected by the society. During this time various slide shows were presented as well.
___________________________________________________________________
1934 COMMMENCEMENT PROGRAM for LEWIS BABEL SR.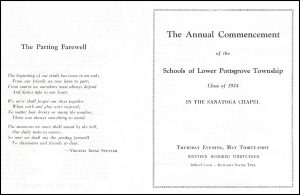 Township Fire Marshal Lew Babel has donated a 1934 Commencement Program for his father Lewis Babel Sr.  It was found in an old desk at the Township Building and was slightly damaged.  We have been able to restore it and the program  can now be viewed at the Chapel.  Click on image to view larger and read. 
___________________________________________________________________
1976 BICENTENNIAL WAGON TRAIN 
Below is a photo of the July, 1976 Bicentennial wagon train encampment site donated by Kay Bachkai. The photo was taken by her father Joseph Schultz from his plane.  The encampment was on the Elmer Saylor farm.  Near the bottom right is the site of the present Lower Pottsgrove township building,  To the right is the Clarence Fry farm.  Kay is a descendant of the Fry family.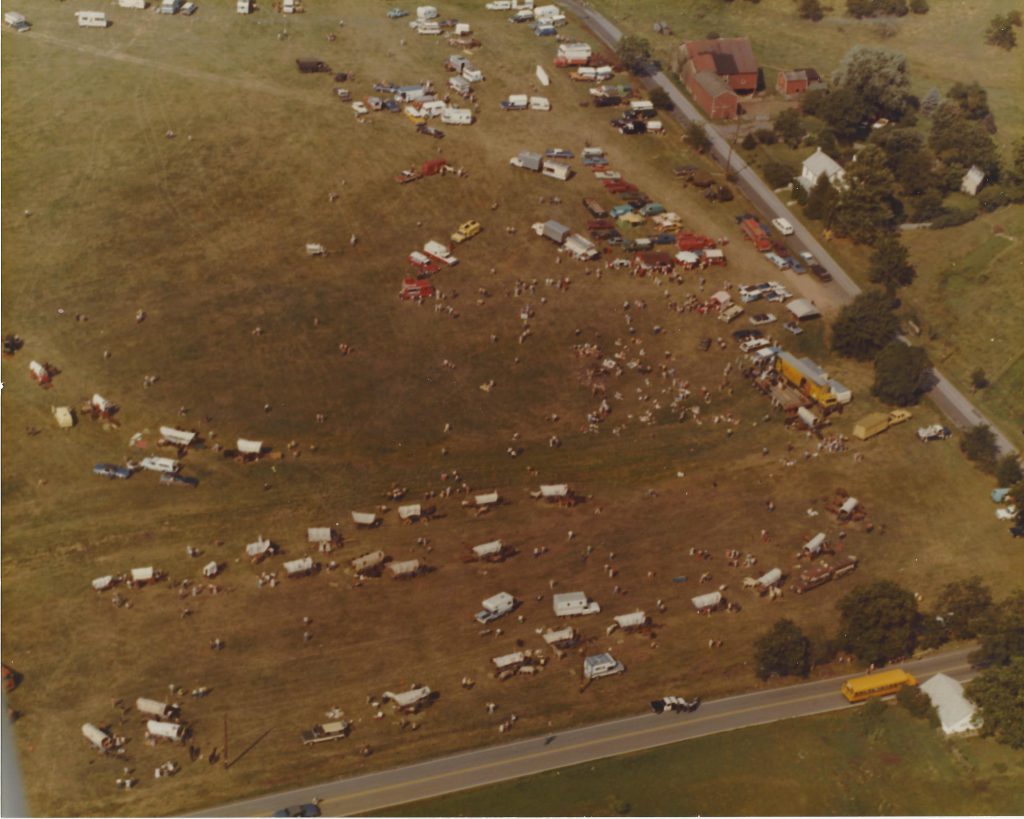 _______________________________________________________________________
THANK YOU TO OUR DONORS AND FRIENDS
A BIG THANK YOU to the folks who donated items and shared things with us in the recent months.
Lew Babel donated some newspaper clippings saved by his father about Bobby Shantz. These were put together in a booklet and are in the Sports display case at the chapel.
Doris Callow of the Limerick Historical Society shared some photos of previous Strawberry Festivals (2001-2002) with us. They have been scanned and are available for viewing at the chapel.
Arlene Keller who is the former Arlene Gaugler and is moving donated some Pottsgrovian yearbooks 1947-1958 and 1974-1979. The older ones are from the West Pottsgrove High School on Grosstown road in West Pottsgrove  (Stowe). They will be available by the next meeting.
Again  THANK YOU to all of our donors and friends.
_______________________________________________________________________
               REMEMBERING JANET M. SCHERER            1945-2017
Janet M. Scherer, wife of John D. Scherer, passed away on Monday February 13, 2017 at Phoenixville Hospital. Born in Pottstown, Pa, she was a daughter of the late Earl R. Norton and the late Ruth Runkel) Norton.  She was a member of New Hanover Lutheran  Church, Gilbertsville.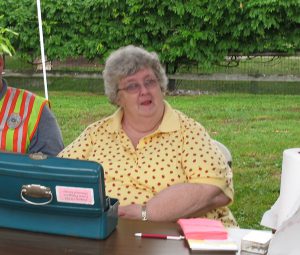 Janet was also a member of the Sanatoga Fire Company Ladies Auxiliary, where she was president for thirty four years, and the Lower Pottsgrove Historical Society where she was secretary for twenty years. She was also an officer of Sanatoga Grange #25 where she was a member for 25 years, and a member of Montgomery County Pomona Grange.
Surviving with her husband John is a son, Brad A. Scherer and his wife Marj, Pottstown, and a daughter, Beth A. Scherer, Pottstown.
There is so much more to say about Janet's time here with us. For the Society she was much more than a secretary. She was a tireless worker in all the things she did for us. From buying supplies for the Strawberry Festival and working at the festival selling food tickets and those great strawberries we always have, to helping clean up and tallying the profits at the end of the day. Janet was not a computer person but there was never a note or copy of the minutes that could not be read by anyone. Her handwriting was among the best we have ever seen, and a computer was not necessary for her.
Janet was well liked and had many friends due to her cheerful and pleasant way of dealing with people. She will be greatly missed by all of us.
Memorial donations for Janet may be made to Sanatoga Fire Company, 2222 E. High Street, Pottstown, PA, 19464 or Lower Pottsgrove Historical Society, 2341 E. High Street, Pottstown, PA 19464.                                                                                                                                         Two rose bushes have been planted at the Chapel in memory of Janet.  Thank You to Lew Babel and Dave Updegrove for their help in planting them.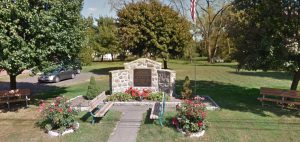 _______________________________________________________________________
ULTRA-VIOLET  PROTECTION  FOR  CHAPEL
We have been searching for some time to provide the chapel with protection from the ultra-violet rays of the sun.  Custom windows seemed to be a very expensive, prohibitive  option.  After considerable research we have come up with an alternative.  We have purchased from a supplier of greenhouse material a length of 6 ml. vinyl material that is 98% UV protection rated.  This will provide us with the protection we have been seeking.  Charles Nippert has taken the frames that we had and rehabbed them, replacing some wood. He then sanded, stained and varnished them so they are a very good match with the present window frames.  We will then cut the material and staple it to the frames.  They will then be installed on the inside of the windows.  We should not see any significant darkening in the chapel and we will have the fade resistance we are seeking.  The installation of the frames has been completed  by Charles Nippert and Lew Babel. We thank Charles and Lew for  their efforts on this project.
_______________________________________________________________________
   COLLECTION OF WILSON D. PUHL TAX RECORDS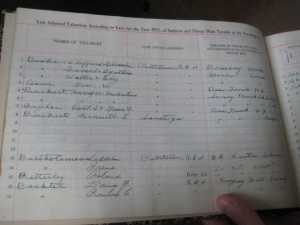 Read about the Wilson D. Puhl collection of tax records in the 'Hidden Collections Initiative for Pennsylvania Small Archival Repositories'  section of HSP (Historical Society of Pennsylvania).  These records are available for viewing at the Chapel.