REMEMBERING DAVID UPDEGROVE

 OPEN HOUSE WITH LIMERICK HISTORICAL SOCIETY   

1934 COMMENCEMENT PROGRAM for LEWIS BABEL SR,

WILSON  D. PUHL TAX RECORDS

REMEMBERING DAVID UPDEGROVE


1930 – 2018
David J. Updegrove, husband of Barbara S. (Saylor) Updegrove, passed away on July 26 at his residence in Sanatoga, PA. Born in Pottstown, PA, David was the son of the late David B. and Margaret (Hinkle) Updegrove. He was a member of St. James Lutheran Church in Pottstown.
David was employed at Stanley G. Flagg as a metal pattern maker for 37 years retiring in 1992.  He also served in the U. S. Army during the Korean War.
David was a volunteer fireman with the Sanatoga Fire Company for over 65 years.  He served as an officer in  all positions over the years.  He was also a member of Ringing Hill, New Hanover, and West End Fire Companies.
It is his long-term membership in the Lower Pottsgrove Historical Society that we can remember best. From cooking hot dogs or working at a table at the Strawberry Festival, to grounds-keeping and maintenance of the Chapel, Dave was always at his cheerful, helpful best. He was definitely at the top of everyone's list for being just an all around nice guy and he will be very much missed by all of us at the Society, as well as by his many  fire company friends.
Memorial donations for Dave may be made to the Sanatoga Fire Company, 2222 E. High St., Pottstown, PA 19464: St. James Lutheran Church, 1121 E. High St., Pottstown, PA 19464: or Lower Pottsgrove Historical Society, 2341 E. High St., Pottstown, PA 19464.
___________________________________________________________________
OPEN HOUSE WITH LIMERICK
 HISTORICAL
SOCIETY
On June 11 the members of Limerick Historical Society were guests at an Open house with a brief program outlining the beginning  of the Society  and it's progress to date. This program was presented by Tom Troutman and Glenn Isett. Afterward the members enjoyed looking at various pictures, books, and artifacts collected by the society. During this time various slide shows were presented as well.
___________________________________________________________________
1934 COMMMENCEMENT PROGRAM for LEWIS BABEL SR.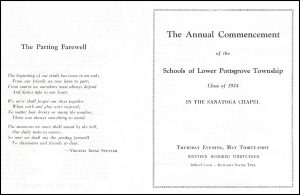 Township Fire Marshal Lew Babel has donated a 1934 Commencement Program for his father Lewis Babel Sr.  It was found in an old desk at the Township Building and was slightly damaged.  We have been able to restore it and the program  can now be viewed at the Chapel.  Click on image to view larger and read. 
_______________________________________________________________________
   COLLECTION OF WILSON D. PUHL TAX RECORDS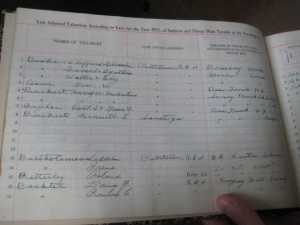 Read about the Wilson D. Puhl collection of tax records in the 'Hidden Collections Initiative for Pennsylvania Small Archival Repositories'  section of HSP (Historical Society of Pennsylvania).  These records are available for viewing at the Chapel.