SANATOGA UNION SUNDAY SCHOOL PLAQUE

MODEL WAGON DONATION

NEW HEATER

 REMEMBERING DAVID UPDEGROVE

 OPEN HOUSE WITH LIMERICK HISTORICAL SOCIETY   

1934 COMMENCEMENT PROGRAM for LEWIS BABEL SR,

WILSON  D. PUHL TAX RECORDS


SANATOGA UNION SUNDAY SCHOOL PLAQUE
We are pleased and proud to report that we have received a grant to be used to purchase a solid bronze plaque to be installed on the front of our building. This plaque is to recognize the Sanatoga Union
Sunday School as a member of the National Register of Historic Places. The grant was donated by the William G. Pomeroy Foundation of Syracuse, NY which specializes in giving grants to smaller historical organizations that may not be able to purchase something like this on their own. We are very appreciative of their generosity in choosing us to receive this plaque.

We received our plaque in September and have recently had it installed by LPHS members Josh Alderfer and Lew Babel. They did a great job and the plaque looks wonderful near the front door.   Many thanks to Josh and Lew. Please stop by and take a look at our shiny new plaque, and learn why our Chapel is deserving of this recognition. We are open the 2nd Wednesday of almost every month for meetings at 7:30 pm. We also have a FREE Open House almost every last Sunday of the month from 1 till 4 pm. Check our website for dates.
Click here for more info about the SUSS.
___________________________________________________________________
WAGON COLLECTION
Local resident Ralph Moser has donated a handcrafted model of an  A & P (The Great Atlantic & Pacific Tea Company) Market Wagon (seen to the left), to add to our collection of old wagons.  We  now have 23 wagons in the collection, including two that are nightlights,  all carefully put together by Ralph.  As you know, wagons were the main mode of transportation before the arrival of the motor vehicle, and there were many different types of wagons.  We  have models (seen below) of a Buckboard, a Circus Wagon, a Jail Wagon for transporting prisoners, a Stagecoach, an Amish Courting Buggy, a Chuck Wagon, and many more.  Please stop in to one of our meetings or
Open Houses
to view this collection.  It is very interesting.
Click on images to enlarge
___________________________________________________________________
NEW HEATER
As winter was approaching it was determined that repairs were needed  for our heating system.  When the repair techs looked at it , they quickly determined that we needed a new unit and offered us a quote on one.  The price was very fair and the company was very reputable so a temporary fix was made and a new heater was ordered.  It was installed on Dec. 27 in just a few hours and we are satisfied with its performance at this time.  Here is a look at the new unit in place and the old one getting ready to leave for the scrap pile.  We thank Lew Babel for heading up this project for us.
___________________________________________________________________
REMEMBERING DAVID UPDEGROVE


1930 – 2018
David J. Updegrove, husband of Barbara S. (Saylor) Updegrove, passed away on July 26 at his residence in Sanatoga, PA. Born in Pottstown, PA, David was the son of the late David B. and Margaret (Hinkle) Updegrove. He was a member of St. James Lutheran Church in Pottstown.
David was employed at Stanley G. Flagg as a metal pattern maker for 37 years retiring in 1992.  He also served in the U. S. Army during the Korean War.
David was a volunteer fireman with the Sanatoga Fire Company for over 65 years.  He served as an officer in  all positions over the years.  He was also a member of Ringing Hill, New Hanover, and West End Fire Companies.
It is his long-term membership in the Lower Pottsgrove Historical Society that we can remember best. From cooking hot dogs or working at a table at the Strawberry Festival, to grounds-keeping and maintenance of the Chapel, Dave was always at his cheerful, helpful best. He was definitely at the top of everyone's list for being just an all around nice guy and he will be very much missed by all of us at the Society, as well as by his many  fire company friends.
Memorial donations for Dave may be made to the Sanatoga Fire Company, 2222 E. High St., Pottstown, PA 19464: St. James Lutheran Church, 1121 E. High St., Pottstown, PA 19464: or Lower Pottsgrove Historical Society, 2341 E. High St., Pottstown, PA 19464.
___________________________________________________________________
OPEN HOUSE WITH LIMERICK
 HISTORICAL
SOCIETY
On June 11 the members of Limerick Historical Society were guests at an Open house with a brief program outlining the beginning  of the Society  and it's progress to date. This program was presented by Tom Troutman and Glenn Isett. Afterward the members enjoyed looking at various pictures, books, and artifacts collected by the society. During this time various slide shows were presented as well.
___________________________________________________________________
1934 COMMMENCEMENT PROGRAM for LEWIS BABEL SR.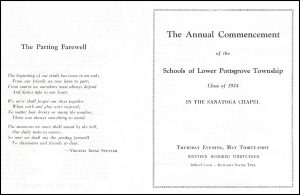 Township Fire Marshal Lew Babel has donated a 1934 Commencement Program for his father Lewis Babel Sr.  It was found in an old desk at the Township Building and was slightly damaged.  We have been able to restore it and the program  can now be viewed at the Chapel.  Click on image to view larger and read. 
_______________________________________________________________________
   COLLECTION OF WILSON D. PUHL TAX RECORDS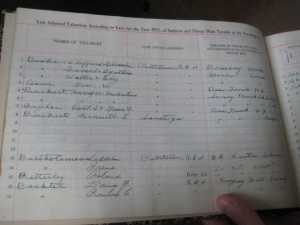 Read about the Wilson D. Puhl collection of tax records in the 'Hidden Collections Initiative for Pennsylvania Small Archival Repositories'  section of HSP (Historical Society of Pennsylvania).  These records are available for viewing at the Chapel.