SANATOGA UNION SUNDAY SCHOOL PLAQUE

STUDENT VOLUNTEER PROGRAM

NEW AMERICAN FLAG

DEMOLITION OF HOUSES

MODEL WAGON DONATION

1934 COMMENCEMENT PROGRAM for LEWIS BABEL SR,

WILSON  D. PUHL TAX RECORDS


SANATOGA UNION SUNDAY SCHOOL PLAQUE
We are pleased and proud to report that we have received a grant to be used to purchase a solid bronze plaque to be installed on the front of our building. This plaque is to recognize the Sanatoga Union
Sunday School as a member of the  National Register of Historic Places. The grant was donated by the William G. Pomeroy Foundation of Syracuse, NY which specializes in giving grants to smaller historical organizations that may not be able to purchase something like this on their own. We are very appreciative of their generosity in choosing us to receive this plaque.
We received our plaque in September and have recently had it installed by LPHS members Josh Alderfer and Lew Babel. They did a great job and the plaque looks wonderful near the front door.   Many thanks to Josh and Lew. Please stop by and take a look at our shiny new plaque, and learn why our Chapel is deserving of this recognition. We are open the 2nd Wednesday of almost every month for meetings at 7:30 pm. We also have a FREE Open House almost every last Sunday of the month from 1 till 4 pm. Check our Schedule of Events page for dates.
Click here for more info about the SUSS.
___________________________________________________________________
STUDENT VOLUNTEER PROGRAM
On Tues., Jan 28, we hosted our first field trip for the Student Service Project under the direction of Lisa Smoyer, Student Advisor. We have entered into a project with the Lower Pottsgrove High School to have student volunteers come and help us with different programs and activities that we do in order to preserve the heritage and history of our area. As a small non-profit looking to grow, we feel having the involvement of our young residents/students would benefit us, as well as be a good learning experience for the students.
The students were given a brief synopsis of our local history and an explanation of some of the things they could do to assist us in our endeavors, such as helping with the archiving  of our collection of historical artifacts, doing gardening and yard work
around the War Memorial, and helping with the Strawberry Festival, which is our biggest fundraiser.  We can always use help in setting up chairs and tables, selling flowers, baked goods, etc.,  as well as assembling baskets to be raffled off which is one of our most popular attractions at the festival.
The field trip was a success. The students seemed to most enjoy learning about the Sanatoga Racetrack and looking at our collection of old yearbooks. We enjoyed having them at the Chapel and are looking forward to working with them in the future.
Thanks to 2nd Vice President Charles Nippert and LPHS Secretary Carolyn Nippert for heading up this project for us.                                                    ____________________________________________________________
NEW AMERICAN FLAG
As you may have noticed, we have a brand new American flag flying.
Our old flag was in pretty bad shape, and thanks to LPHS member and Managing Editor of the Post Publications, Joe Zlomek, we now have a nice new one. Joe generously volunteered to buy us a new flag from the Sanatoga VFW which sells the really good ones; and Billy Worrell, who is the adjutant for the Sanatoga-Pottstown VFW, was kind enough to raise it for us. So THANK YOU very much to Joe and Billy. We're looking good again.
         ________________________________________________________________
DEMOLITION OF HOUSES
Work begins on the demolition of the houses at the corner of South Pleasantview Road and  High Street.  The plan is to build a new Lower Pottsgrove Township Building at this site.   The Township has outgrown the original building  at Buchert Rd. and North Pleasantview Road and is in need of more room.
Photographs compliments of Tom Troutman.

____________________________________________________
WAGON COLLECTION
Local resident Ralph Moser has donated a handcrafted model of an
  A & P (The Great Atlantic & Pacific Tea Company) Market Wagon (seen to the left), to add to our collection of old wagons.  We  now have 23 wagons in the collection, including two that are nightlights,  all carefully put together by Ralph.  As you know, wagons were the main mode of transportation before the arrival of the motor vehicle, and there were many different types of wagons.  We  have models (seen below) of a Buckboard, a Circus Wagon, a Jail Wagon for transporting prisoners, a Stagecoach, an Amish Courting Buggy, a Chuck Wagon, and many more.  Please stop in to one of our meetings or Open Houses to view this collection.  It is very interesting.
___________________________________________________________________
1934 COMMMENCEMENT PROGRAM for LEWIS BABEL SR.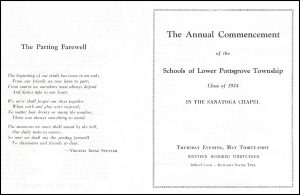 Township Fire Marshal Lew Babel has donated a 1934 Commencement Program for his father Lewis Babel Sr.  It was found in an old desk at the Township Building and was slightly damaged.  We have been able to restore it and the program  can now be viewed at the Chapel.
____________________________________________________________
   COLLECTION OF WILSON D. PUHL TAX RECORDS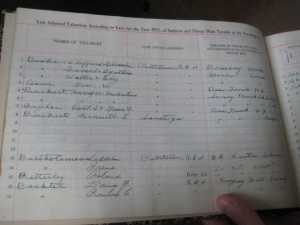 Read about the Wilson D. Puhl collection of tax records in the 'Hidden Collections Initiative for Pennsylvania Small Archival Repositories'  section of HSP (Historical Society of Pennsylvania).  These records are available for viewing at the Chapel.